CD Jewel Case template Jewel Case inserts, booklets, and Sleeves
CD Jewel Case templates & DVD Template dimensions for jewel case sleeve size art design files (including inserts & booklets for Double CD jewel case boxes) are available for online download or from custom service and Disc Masters graphic design departments in a variety of formats.
CD jewel case size & cover art templates are typically formatted for PDF, EPS, and Adobe Creative Suite (like Photoshop, Illustrator, and InDesign). The Print industry standard resolution is 300 DPI in 4-color CMYK (although we can easily convert RGB artwork with minimal color disparity).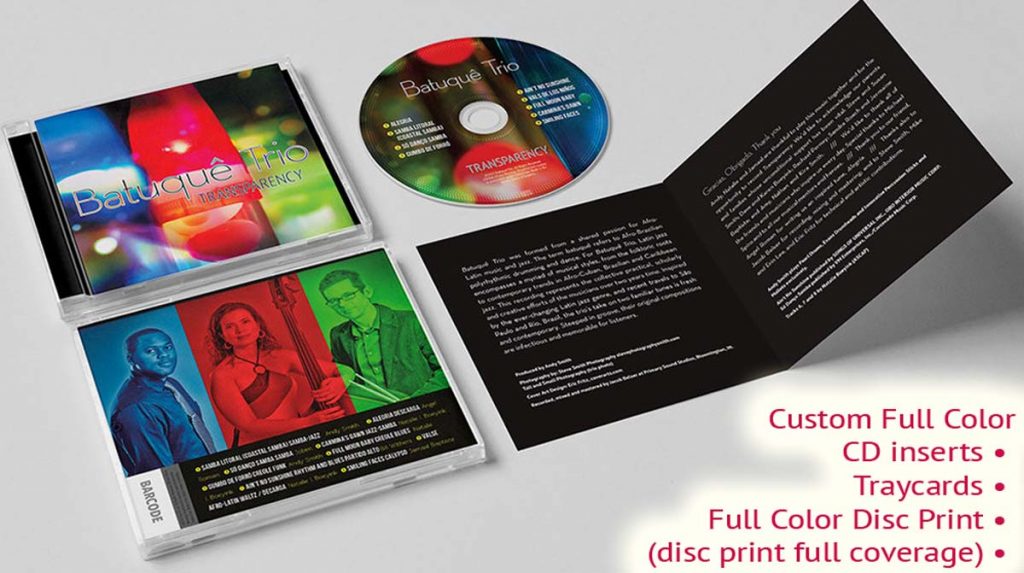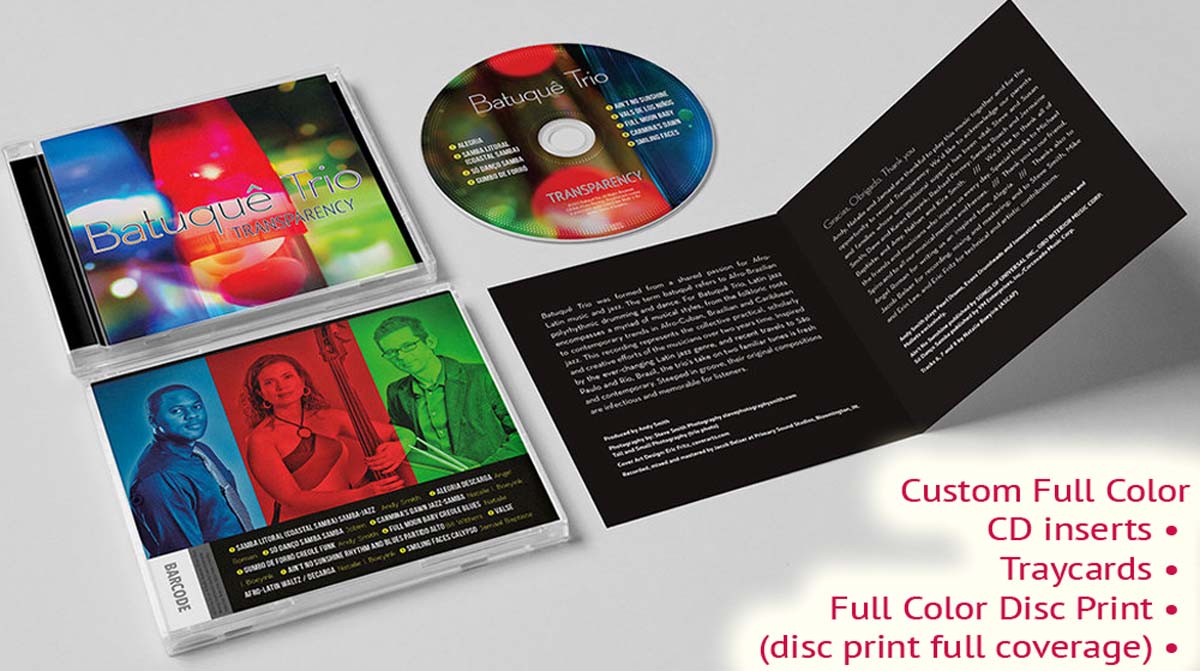 CD & DVD Template Design
Customer often ask if they can create their CD Cover Art inserts and booklets in alternate formats (for example: cd jewel case WORD template) or other popular applications like:
Corel
Canva
Frontpage
GIMP
Power-Point
Microsoft WORD
The Answer is YES… although these technically aren't intended for Pre-Press Graphic Art Design… they certainly can also be made to work in a pinch! In such cases we typically advise customer to go ahead and send us their design files (or other formats) and we can process them as Print Ready High-Resolution PDF, tweak & adjust them for you as needed… and then send you final art proofs for review & approval before proceeding on press.
Or if you need help with your CD Design Art… or have a quick question PLEASE ASK – that's our job, to help YOU!!! Heck, you don't even need to be a customer to ask… we will still be happy to assist you!
CD Jewel Case Dimensions and Artwork Bleed for press
Every Professional CD Printer has slightly different CD template size requirements for press… the reason being, there are so many different types of packaging & printing press specifications on the market, etc.. While most artwork templates are slightly different from one company to the next… they usually no problem at all.
Typically most CD templates are relatively close enough to be portable from one press to another with very little pre-press effort (we normally DO NOT charge for artwork registration & bleed corrections/edits for our clients) We offer these Free CD Design Services as they is fairly common requirements for CD case sleeves, inserts, tray cards, and cd booklets) in the industry.
FREE CD Jewel Case Template & DVD Template
Users can download free CD artwork templates & DVD Templates with dimensions for the various package types from the Disc Masters website (see below) OR if you don't see what you need and/or have questions… Please Contact Us
CD Cover Artwork – Top ideas and tips
When setting up your CD Cover Art Design there are a few important things you should bear in mind. The first thing is the artwork resolution. Here is a helpful hint… You should try to make sure your artwork is at 300 dots per inch resolution. Often times customers will design their art based on how it looks on your computer monitor or screen… its logical, if it looks good on my screen then it MUST be good for press…. Um, sorry… that's a big NO NO – artwork that is low resolution CAN look decent on your screen, but print terribly on press…
Professional grade CD design is technical stuff and can be confusing – but you need answers and a great finished product – you could contact us and we'd be happy to help you – or if you really don't want the hassle of getting us involved at this point (hey we're all busy these days and don't always have time) well, if so then here are a couple of general pointers:
This isn't a PERFECT quick tip (but it's a good general guide)… Look at your artwork file size. The typical CD cover is at least One or a few Megabytes in size… if your design file data size (under file properties on your computer) says its something like 65 kbyte in size you KNOW that's way too small and likely a BIG PROBLEM… low amounts of data = low quality art… high amounts of data = high quality art
# 1 Top Helpful Art Tip
Another quick tip way to tell if your artwork design is high resolution is to ZOOM IN (magnify the small type… Looking at the text of your design can also give you an idea if your art is high-resolution (see Example Below)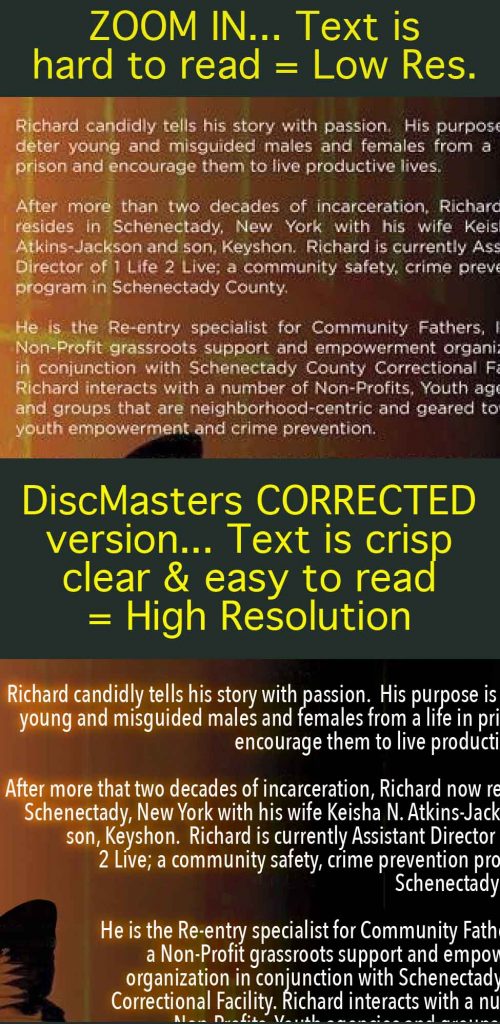 ART BLEED …What is it and Why is it important?
When doing your CD Jewel Case Template design it's also important to pay attention to your boarders and make sure your artwork has the proper bleed required to print on press… So what is Bleed exactly? Art Bleeds allows you to run artwork to the very edge of a printed page (or in this case the art runs all the way across the CD covers).
On a press your artwork is printed on a large sheet of paper and then trimmed down to the final size. If you do not allow for a approx. 1/8 of an inch bleed on your design… then when your print is trimmed there will appear to be a white boarder around the very edges. The best way to illustrate bleed is to show you an example (see below):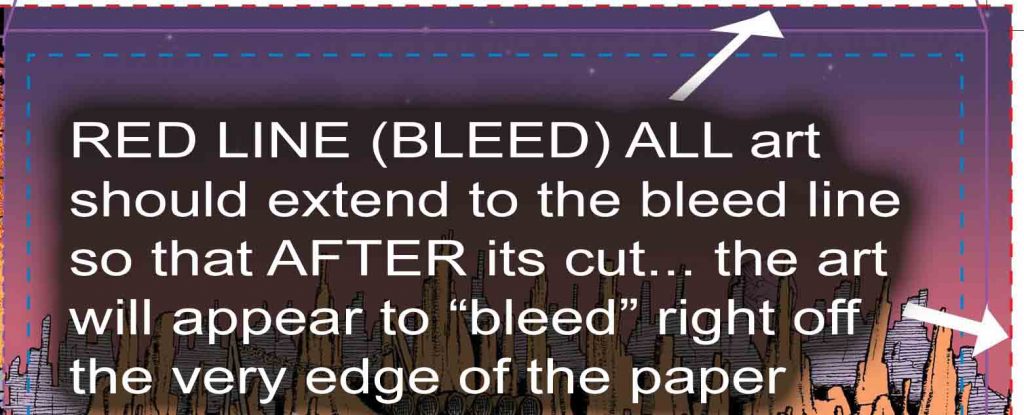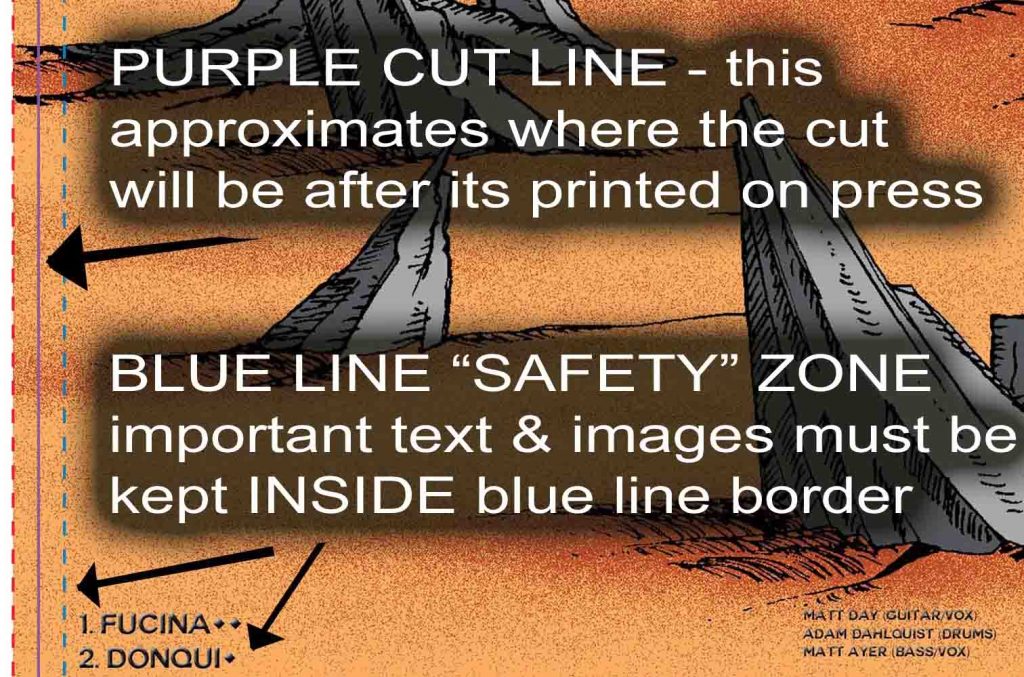 It's important to keep your important text INSIDE the dotted blue safe zone… but make sure the art edge goes PAST the purple cut line all the way to the red dotted BLEED LINE… that way when the cover is cut along the purple line… it will appear as if the art bleeds off the very edges of the cover (edge-to-edge bleed printing)… hence the industry term "Bleed"
Double CD Jewel Case – Double CD Wallets & more…
Customers looking for double CD templates can download our free cd templates online (we recommend you use your a computer or laptop as these are fairly extensive design templates for cell phones) by clicking below – Or contact us if you need something different, or for any specialty multi-disc CD packaging… we're happy to help!